If your 2017 was anything like mine it was hectic, rewarding and full of new challenges. My wife and I moved from Lincoln Nebraska to Kansas City for new work opportunities. Kansas City is an excellent place for my business, still close enough to help my Nebraska clients when they need it and full of potential opportunities and resources to grow PowerBand Graphics.
Industrial Design Services
From a professional standpoint 2017 has allowed me to continue working with product design which has been fun to continue to learn. I've been continuing to do contract design work for New Jersey based company KidDesigns. The company produces licensed toys and electronics for companies like Marvel, Disney, Dreamworks and more. So yes my office has gotten full of toys. Here you can see a few of my favorite projects:
Creative Web Design
Omaha based company Best Card provides credit card processing solutions for healthcare and service industries. They were in need of a modern, clean and mobile friendly website to showcase their products.
If you're looking for quality roofing in Nebraska chances are you've heard of Apple Roofing. I've helped them almost since their company started in Lincoln and now have locations in Omaha, Kearney and Sioux Falls SD. Early in 2017 I worked with them to create a completely new mobile friendly website to show off their brand. Other features included capabilities that allows visitors to view and compare their roofing products.
Another organization that I've worked with for years is BrightHorizons. Their nonprofit organization provides assistance to domestic abuse victims. This year we redesigned their website to make it more modern, capable of event registration and easier to navigate.
Being from a small town myself I appreciate the challenges these communities face. That's why I was happy to help Pilger Nebraska create a website for their new Cooper Family Community Center. Pilger was hit by dual tornadoes in 2014 and the town has been working hard to rebuild and redevelop. The website helps the town promote events from festivals to dances and create ongoing income for the city.
Marketing and Promotion Design
One of my favorite clients to watch grow and promote themselves is PureCare Carpet. In 2017 I've helped design promotion items like door hangers, postcards, flyers and brochures. If you're in Lincoln, they are the best choice for residential and commercial carpet care!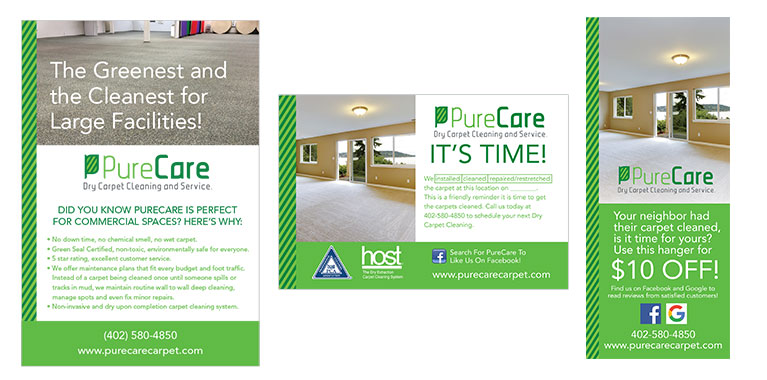 Random Illustration Fun
Last but not least, I continue to try new things with Illustration. I made some fun designs for screen printing projects and also personal experimentation like Drawtober. You can see some of my work in the slideshow below.
Things to watch out for in 2018
As 2018 gets into full gear I'm continuing to try new things. Both in product design and also, logo and web design. I'm currently working on a website redesign for Kansas City Pediatric Dentistry so look for that soon. New things will also be added to the gallery so make sure to check back from time to time! Thanks for looking and as always shoot me an email at [email protected] if there's anything I can do for you.