Branding, Advertising and Website Design for local home energy rater.
Heartland Professional Home Energy Raters is a Lincoln Nebraska startup that approached PowerBand Graphics to provide branding, website design, marketing collateral and even tradeshow signage for the business as it started out. After meeting with the owner Kari Beckenhauer, learning about her business and getting a feel for the passion she has for her industry I felt fortunate she chose me to help.
Heartland Professional Home Energy Raters is a business that specializes in rating the energy efficiency of existing homes in addition to working with home builders to ensure the homes they build are energy star rated and can sell them as such. They do not endorse or promote products, services or companies so you can trust their word that they'll suggest changes that will benefit you and your bottom line.  They'll provide suggestions on how you can save money on utility bills while making your home healthier and more comfortable.
What was great about working with Kari, is that she knows firsthand the troubles that homeowners go through in keeping their home efficient to save money, increasing their home value and decreasing their environmental impact. This kind of knowledge about her business and market is invaluable to creating a meaningful and affective brand. We immediately began conceptualizing ideas and doing extensive research into her market and customers. We created concepts that conveyed the emotions we were looking for, she didn't want to be seen as a cheesy operation. Her business helps homeowners and there should be a sense of trust in her opinion and expertise.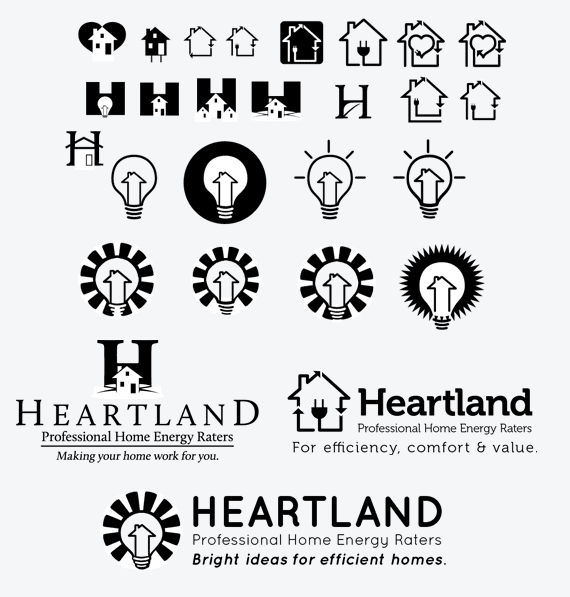 After examining and revising the options we settled on a logo design and brand message. From there we created the identity pieces for the business. Next we examined website concepts to create a creative and professional web presence for the business. The website had to appeal to multiple markets. Not just the homeowner but the home builder as well. Careful thought went into the copy, the structure of the website and the message the site would convey to visitors. Below is a screenshot, or you can check it our yourself here: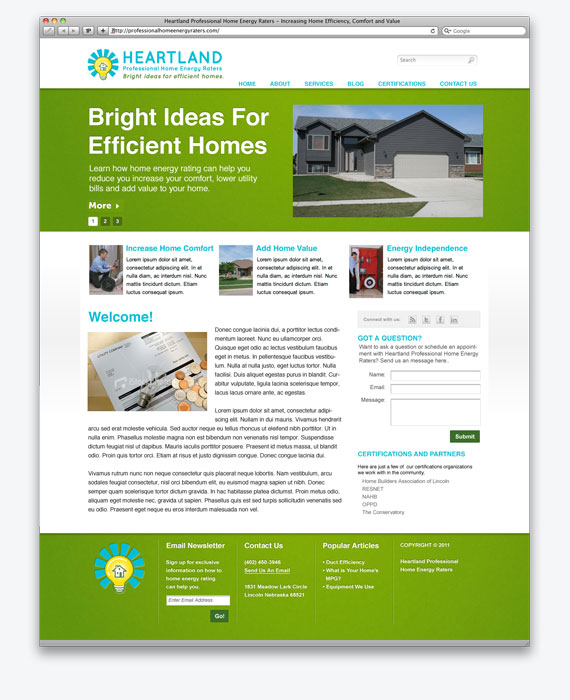 From there we created an email newsletter so that Kari could use PowerBand Graphic's own easy to use email marketing service to keep in touch with her clients and let them know of recent projects and simple tips they could use to make their own homes more efficient.
From there we created advertisements that captured the qualities of everything we've established in Heartland Professional Home Energy Rating's branding so far. We created what PowerBand Graphics calls an Advertising Kit. This kit establishes a variety of print ads in different sizes that will help establish a consistent and professional brand in whatever publications or methods they decide to advertise in.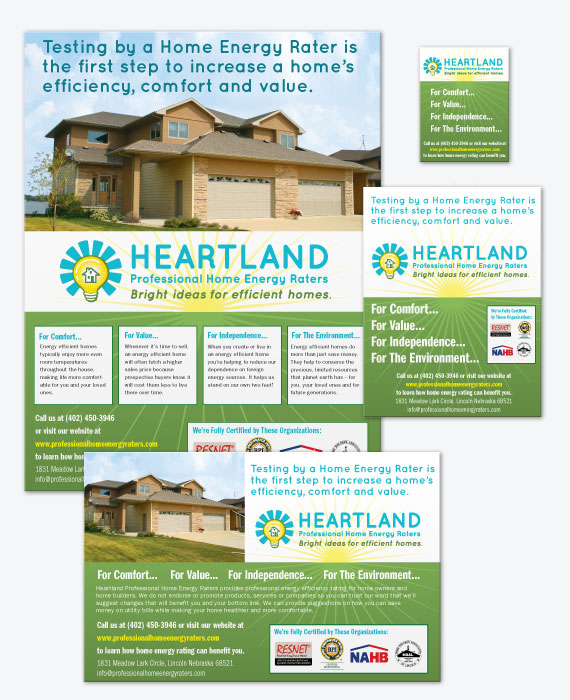 We even went so far as to create graphics for tradeshow banners and standees for a local Homeowner Convention. It was great working with Kari on all of these projects to establish a professional, consistent brand image across print, web and any other marketing needs they had.
Creating this consistency helps establish trust, professionalism and a uniqueness that increases the value of her business as whole. If you are a homeowner who is looking to increase the value and comfort of your home, create more independence from energy utilities in addition to helping the environment, you should give Kari at Professional Home Energy Raters a call. Your home and your wallet will thank you.