This month's Client Showcase features Denise G. Scholl-Serrett, The HR Lady.  The HR Lady provides Human Resource Consulting for small and medium sized businesses. Denise strives to make Human Resources fun, energetic and if you've ever met her you'll know in an instant that she's passionate about what she does and capable of undertaking any task. The HR Lady helps businesses with establishing strategic planning, human resource compliance & training, benefits planning and much much more. If you are a business owner who not only wants to hire the right people but make sure they are treated right, you need to call the HR Lady!
Denise has a fantastic brand concept. By building her company around herself and establishing herself as the expert, she created a very memorable and unique image. As anyone who's visited my blog can attest, creating a personalized brand with your company is a smart technique. No matter how much your competitors may try to emulate you or your services, one thing they'll never be able to duplicate is you!
Her original business designs were solid but they did not fully capture that fun and personality that The HR Lady exhibits. Here's an example of how they looked. It's straightforward and to the point but nothing about it screamed "HR Lady".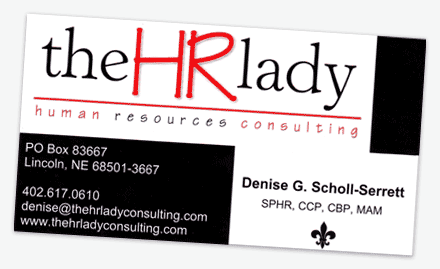 After some talking she decided that it was time to leverage her look, company name and personality into a new brand. PowerBand Graphics sat down with Denise and discussed what qualities she wanted to promote and what areas in her field she thought needed to be improved upon. She wanted to change the perception that Human Resources is something in business that is troublesome or painful. Denise wanted to highlight the fun and problem solving abilities that her profession can provide. After researching her field, concepting ideas and working with her on revisions, we finalized her new brand.
"Human Resources Made Simple" while it's true there's nothing simple about what she does, The HR Lady works to make things simple and fun for her clients and their employees. Once her logo was established we created basic design and identity components. This included everything from business cards to letterhead and envelopes. All of those pieces working together should be professional, clean and highlight the core themes of the The HR Lady brand.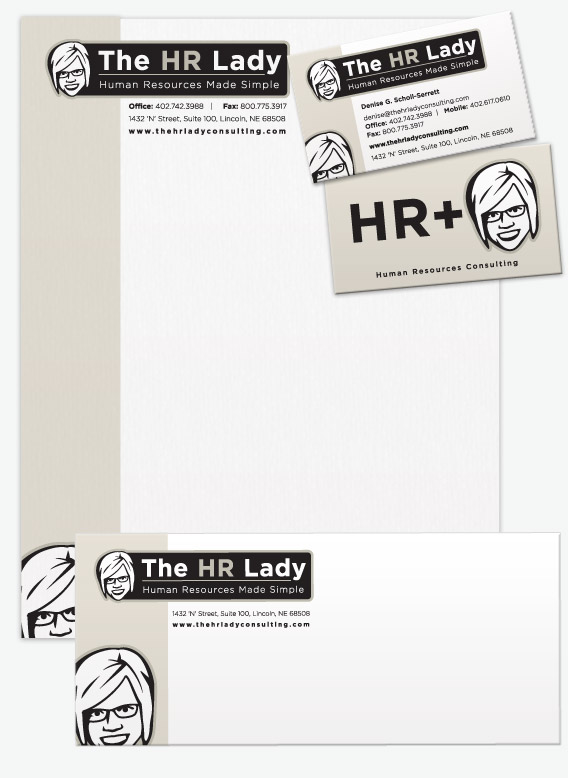 The HR Lady has become a recognizable face around Lincoln even without creating a brand around her. This kind of design will help make her that much more memorable. It's easy to implement, iconic and is an investment that will be worthwhile for years to come!