This edition of client showcase features E-Pass Nebraska.
E-Pass is a local service that provides exclusive membership to receive "elite" specials at various drinking establishments around the Lincoln Nebraska area. E-Pass is now accepted at 9 locations with more to come! Including sports bars, restaurants, clubs, and Lincoln's hottest spots for live bands.
This business was started by Jason Gayed, a local small business owner who had an idea for a discounted card similar to what you may find for restaurants but aimed at drinking establishments and clubs. After meeting with him it was clear he had done his research and realized that with this startup image was going to play a large role in attracting sales. Jason did not want something that would be viewed as cheap or cheesy. To attract both the drinking establishments and the people to buy the card this service needed to be high end, fun and professional. No product names had been finalized at this point and PowerBand Graphics was up to the challenge of working with Jason, researching different options to create a brand that met his goals.
The first step was researching what was out there, comparing ideas and concepting directions we could go. Sketches were made, typography was experimented with and names were tested. Here's just a sample of some of the concepts that were created: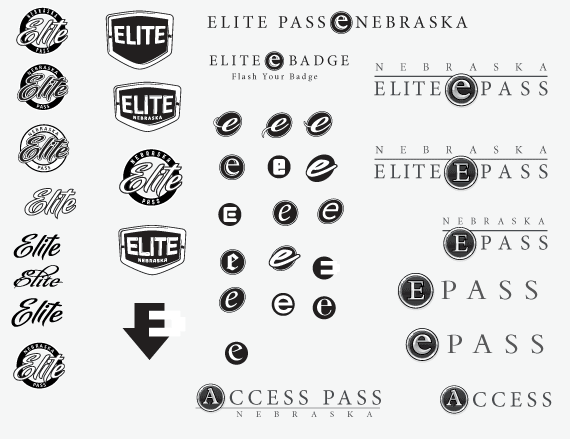 From there, Jason and I worked to finalize the concept and aesthetic of the company. The company would be known as Elite Pass Nebraska with the main product being the E-Pass. The business identity should convey nightlife, classiness and exclusivity for the card holder. The card itself would be traditional on the back side but the front would be vertically oriented so the user could wear it in a lanyard. This lends itself well to events where an E-Pass holder gets in free or are exclusive to cardholders.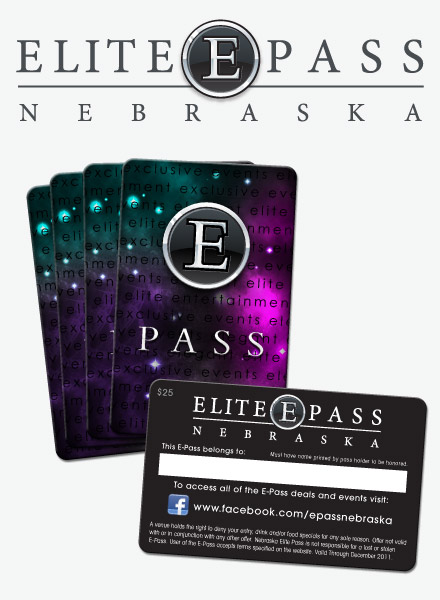 Once everything was finalized, brand guidelines were given to Jason. These multi-page guidelines included primary logos, alternate logos and directions on when to use each. It includes social media images, and print files so the card, logo and everything else can be replicated in as high quality manner possible. PowerBand Graphics will always be ready to help create work for Elite Pass Nebraska but having this material on hand makes the business owner's life easier and more independent.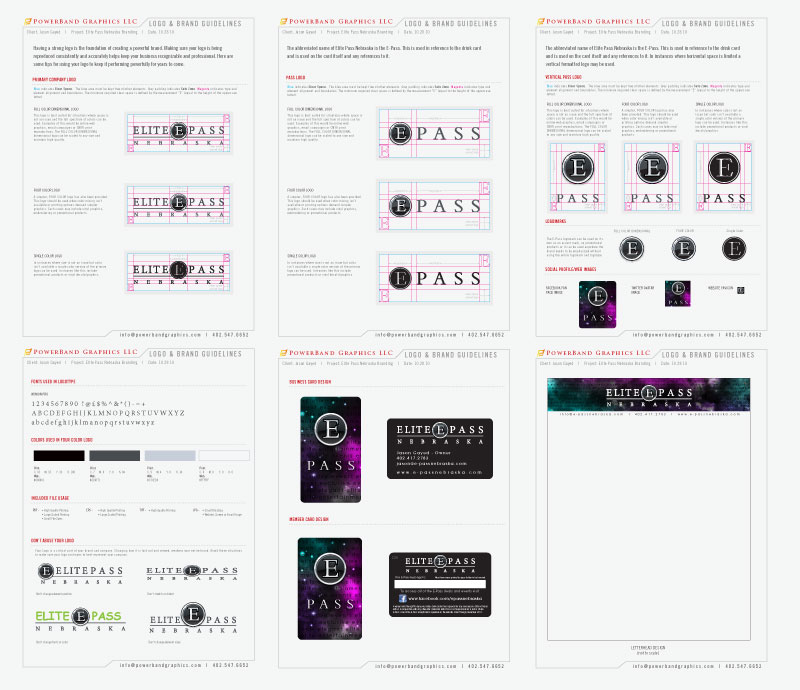 It was a pleasure working with Jason. His business plan has been well thought out and there are some great specials with E-Pass. You can contact him or purchase yours via his website.